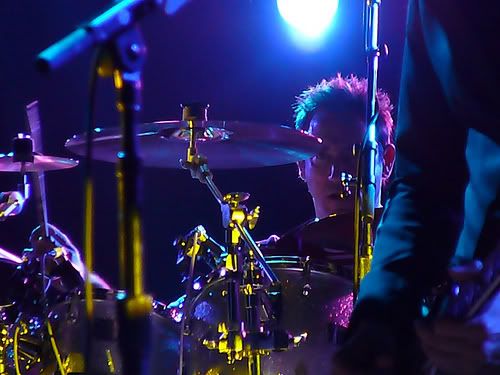 Smashing Pumpkins, live at Palamalaguti Bologna, 3rd February 2008
What can I say about this band that people don't already know? I've been a fan since debut album Gish, and like many my fandom has decreased in the interveening years? I'm sure you could've guessed half of that anyway, so not much cop really. However...despite the fact the line-up isn't what it used to be, Billy still remains a hard task master, he demands the best out of any musicians within his band, it goes to show in their live performances, and this one is particularly fine.
01. Porcelina Of The Vast Oceans
02. Behold! The Nightmare
03. Bring The Light
04. Tonight Tonight
05.
Mayonaise
06. Try, Try, Try
07. Superchrist
08. (Come on) Let's Go!
09. Stellar
10. Perfect (acoustic)
11. Lily (My One And Only)
12. The Rose March
13. Today
14.
Tarantula
15. Stand Inside Your Love
16. Ava Adore
17. Drown
18. Bullet With Butterfly Wings
19. 1979 (acoustic)
20. That's The Way (My Love Is)
21. My Blue Heaven
22. The Everlasting Gaze
23. Cash Car Star
24. Easy Living (Uriah Heep)
25. Foreplay-Long Time (Boston)
26. For What It's Worth (Buffalo Springfield)
27.
Wasted Years
(Iron Maiden)
28. Daydream
29. Wound
30. United states\Encore Break
Encores:
31. I Don't Mind
32. Cherub Rock
Rar 1
Rar 2
Rar 3