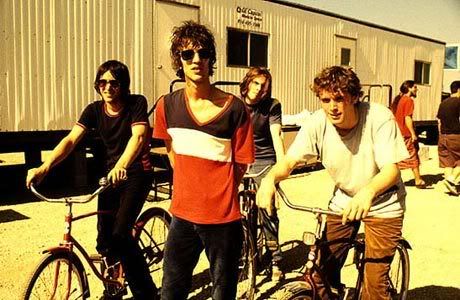 The Verve, World Music Theater, Chicago, 16th July 1994
Once upon a time, from a little northern English town called Wigan, a bunch of guys got together and started to play shoegazing indie music. After a couple of albums, and fairly small success, they expanded their sound, taking a more song led aproach to music, then they were huge due to a liberal sprinkling of a Stones melody, for which they lost all royalties...nice.
This showcaptures The Verve on their magical rise, just as they were transitioning between the two periods (okay, okay, now there's a third!) of their life. The set features a few at the time released tracks, Gravity Grave, Man Called Sun (Verve EP), Slide Away, Blue (A Storm In Heaven), yet to be released songs such as Stormy Clouds (A Northern Soul), Rolling People (Urban Hymns), Let The Damage Begin (This Is Music B-side), Been On The Shelf Too Long (early version of This Is Music), and the unreleased track Mover.
Lo and behold, what do I see on the official site but a free dowload for the track Mover! *listens* Yeah, same tune. This is extra nice this week then :-)
01. Let The Damage Begin
02. Blue
03. Slide Away
04. Stormy Clouds
05. (The) Rolling People
06. Man Called Sun
07. Been On The Shelf Too Long
08. Mover
09. Gravity Grave
*updated link*
RARed file