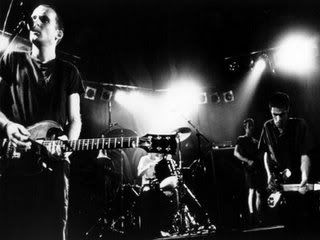 Fugazi, live at Irving Plaza, New York, 5th April 1995
Fugazi have been around since 1988, currently on hiatus, and they rock. They have a very cool attitude to the business of music, sticking to their indie label when majors came-a-courting, as they felt they were selling enough albums without having money to promote them, and also treat their fans with great respect. They've always tried to keep tickets prices at a reasonable cost, $5 in the US, and have a no 'slam-dance' policy, a relic from the punk/hardcore days, 'cos these people just get in the way of an enjoyable gig.
1. Intro
2. Blueprint
3. Brendan #1
4. Birthday Pony
5.
Cassavetes
6. Facet Squared
7. Dear Justice Letter
8. Bed for the Scraping
9.
Target
10. Promises
11. Margin Walker
12. Bad Mouth
13. Give Me The Cure
14. Guy and Ian Talking
15. Returning The Screw
16.
Smallpox Champion
17. Back to Base
18. By You
19.
Latest Disgrace
20. Reclamation
21. Forensic Scene
22. Long Distance Runner
23. Glue Man
Download samples, they're not in Zips
Fugazi Plaza 1
Fugazi Plaza 2
*edit:
I forgot to link track 19, if you've already downloaded, grab that one too!
Oops! Also failed to do that properly. Should be OK now...