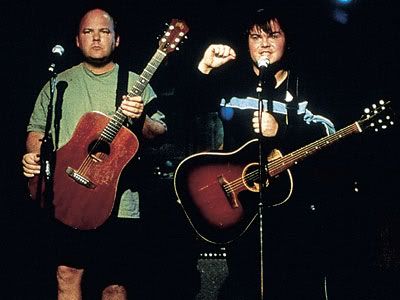 Tenacious D, live at the Roseland Theater Portland, 22nd July 2000
A fairly early show from Jack, Kyle and band, with a fairly, as can be expected, playful setlist, full of little jokes and homages. I'm sure if they don't piss you off too much for simply being a fun band, or a joke if that's the way you look at it, then you'll certainly enjoy this.
Set I:
01. Gonna Have A Good Time(comes in late)
02. Warning - Exploding Brains
03. Jesus Ranch
04. There Were Bells
05. Kielbasa Sausage - Tenacious D Time
06. History Of Tenacious D
07.
Burrito Supreme
08. Dio Chat
09. Ronnie James Dio Holy Diver
10. Ballad Of Dio
11.
Special Things
12. Lee
13. Sasquatch
14. They Fucked Our Asses
15. Friendship
16.
Rocket Sauce - crowd Rock And Roll
17. Tenacious D Chant
18. Karate
19. Song Of Exultant Joy
20. City Hall Intro
21. City Hall
22. Kyle Took A Bullet
23. The Road
Set II:
01. KB talk
02.
Fuck Her Gently
03. Set The Artist Free chat
04. Cosmic Shame - Inward Breathing
05.
Hari Krishna - GNR
06. Tribute
07. Shells
08. Spiderman
09. Rock Yer Socks Off - Backstage Betties - Sex Supreme
10. Sex Supreme - Intros
11. Explosivo
12. Beatles Medley
13. The Five Needs
Download samples, they're not in Zips
D Roseland 1
D Roseland 2