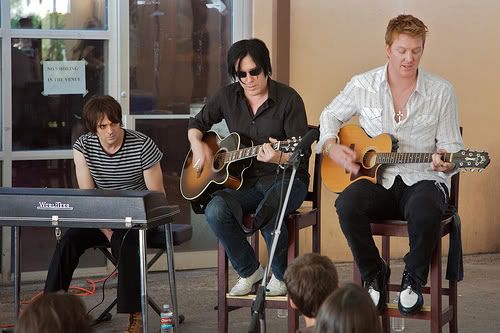 QOTSA, Acoustic Sessions, 2002 to 2007
This is a little compilation put together by myself, sourced from four differing sessions, three from FM sources (Oui FM France and BBC Radio 1), and one from a video source (3voor12). All are very different, whether Josh solo, Josh and Nick, or full band. The first one, from Radio 1, has an amusing variant on Feelgood Hit...but sadly also showcases how much of a dick Jo Whiley is. Enjoy anyway!
(Radio 1 The Arc, Jo Whiley 2002)
01. Interview with Josh
02. No One Knows
03. Feel Good Hit Of The Summer
(Oui Fm Session 2003)
04.
No One Knows
05. Go With The Flow
(3voor12 Session 2007)
06. I'm Designer
07. Suture Up Your Future
08. Into The Hollow
09.
3's And 7's
10. River In The Road
11. Make It Wit Chu
(Oui FM Session 2007)
12. 3's And 7's
13. Into The Hollow
Download samples, they're not in Zip
Queens Sessions