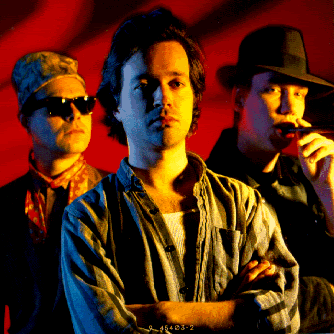 Violent Femmes, live at Snow Ridge Ski Mountain, Turin NY, 4th September 2005
I think I probably heard the Violent Femmes first in the wonderful black comedy Grosse Point Blank, one of a few John Cusack films with terrific soundtracks (the adaptation of High Fidelity being a case in point). Over here in the UK they're song Blister In The Sun has been used in an advertising campaign for some or other tat, I forget. Anyway, they're a great indie-pop act, with a fun approach to the whole sex, drugs and rock'n'roll thing. Enjoy!
01. Look Like That
02. Out The Window
03. Country Death Song
04.
Please Do Not Go
05. Blister In The Sun
06.
Prove My Love
07. Mirror Mirror (I See A Damsel)
08.
The Christian Life
09. Jesus Walking On Water
10. Good Feeling
11.
Gimme The Car
12. American Music
13. I Held Her In My Arms
14. Confessions
15. Black Girls
16.
Gone Daddy Gone
(with Rob Derhak)
17. Add It Up
18. Add It Up
Download samples, they're not in Zip.
Femmes Turin