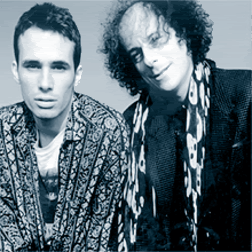 Gods and Monsters, live at the Roulette Club NYC, 5th April 1992
Post the St. Anns Tim Buckley tribute show, Jeff hooked up with ex-Captain Beefheart guitarist Gary Lucas to sing for his band Gods and Monsters. It wasn't a long term affair, but was rather a productive period anyway. They recorded many tracks together at Lucas home studio and played several shows around New York. From these sessions along with Lucas originals, such as How Long Will It Take below, came fledgling versions of Grace and Mojo Pin, which Lucas played guitar for on the album Grace. Thankfully a much more subdued version than during the G&M period!
01. Dink's Song
02. Sweet Thing
03.
How Long Will It Take
04. Mojo Pin
05. Hymn To Love
06. Grace
07. Farewell Angelina
Download sample, it's not in Zip.
Monsters Roulette