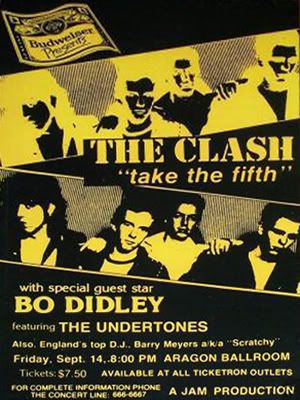 The Clash, live at the Aragon Ballroom Chicago, 14th September 1979
A sweet set from the boys from London, though not sure how much Bo plays on this, if at all. Going by the poster for it it could be support or as a guest. Recorded as they were finishing recording London Calling, they include quite a few tracks from that album here, including one much covered song, named here Jimmy Jazz, called Stagger Lee, an old blues standard, my favourite version being by Nick and his Bad Seeds, though it's not for the faint hearted!
01.
Jimmy Jazz
02. I'm So Bored With The U.S.A.
03. Complete Control
04. London Calling
05. Clampdown
06. (White Man) In Hammersmith Palais
07.
Koka Kola
08. I Fought The Law
09. Jail Guitar Doors
10. Police & Thieves
11. Stay Free
12. Clash City Rockers
13. Safe European Home
14. Capital Radio One
15.
Janie Jones
16. Garageland
17. Armagideon Time
18. Career Opportunities
19. White Riot
Download samples, they're not in Zip
Clash Chicago