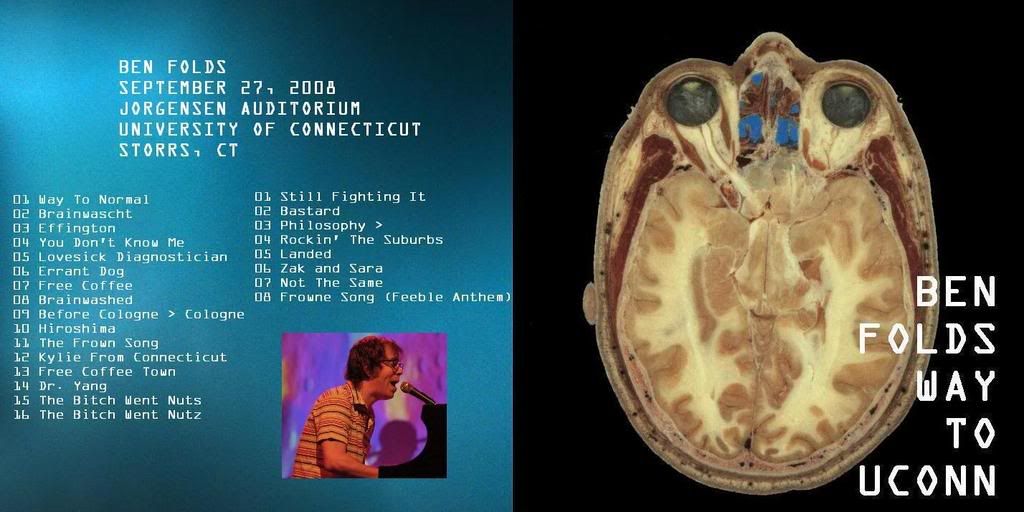 Ben Folds, live at Storrs, University of Connecticut, 27th September 2008
Another installment from Ben Folds Way To Normal pre-release touring schedule, the album was released a mere three days later. Won't go into this too much, said all that was needed last time really. Enjoy!
01 Way To Normal
02 Brainwascht
03 Effington
04 You Don't Know Me
05 Lovesick Diagnostician
06 Errant Dog
07 Free Coffee
08 Brainwashed
09
Before Cologne > Cologne
10 Hiroshima
11 The Frown Song
12 Kylie From Connecticut
13 Free Coffee Town
14
Dr. Yang
15 The Bitch Went Nuts
16
The Bitch Went Nutz
17 Still Fighting It
18 Bastard
19 Philosophy >
20 Rockin' The Suburbs
21 Landed
22 Zak and Sara
23 Not The Same
24 Frowne Song (Feeble Anthem)
Download samples, they're not in Zips.
Folds Storrs 1
Folds Storrs 2