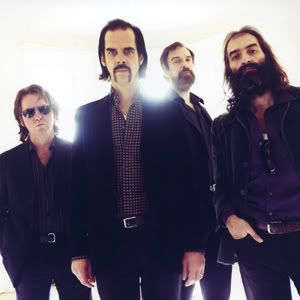 Grinderman, live at Roskilde, Denmark, 7th April 2008
After a few albums from The Bad Seeds where piano balladry was very prominent, Nick decided that what was needed was a bit of raw rock punch to enliven the band again. So he called on the core members to write some new material with him, simply go to the studio, play loud and fast, then hit record. The album was sweet, and the following Bad Seeds albums followed a similar vein. Enjoy!
01. DJ Intro
02. Electric Alice
03. Grinderman Intro
04. Grinderman
05.
When My Love Comes Down
06. Honey Bee (Let's Fly To Mars)
07. Dream
08. No Pussy Blues
Download sample, it's not in Zip
Grinderman Roskilde