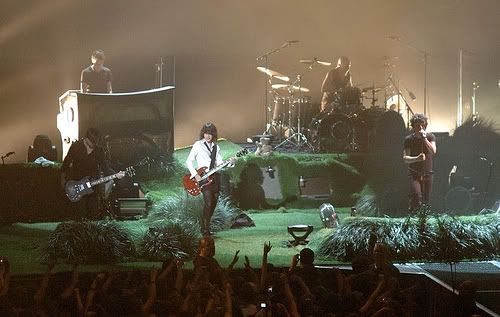 Indochine, live at Le Zenith, Montpellier France, 7th March 1986
Back in 1985, Frendch new wave/rock band Indochine released their third album, snappily titled 3 (perhaps Led Zep of Big Star should sue?), which gave them the public acclaim to match their critical acclaim. A little help from Serge Gainsbourg in making a video helped I'm sure. The final track apart, the complete album is reproduced here. I'm sure you'll enjoy.
01. Intro: La Conquete De L'Ouest
02. A l'assaut
03. Indochine les 7 jours de Pekin
04. Miss Paramount
05. Le train sauvage
06. Salombo
07.
Canary bay
08. Pavillon rouge
09.
Kao bang
10. Monte Cristo
11. L'opportuniste
12. A l'est de Java
13. Okinawa
14.
3 nuits par semaine
15. Razzia
16. Hors la loi
17.
3eme sexe
18. L'aventurier
19. Dizzidence politik
Download samples, they're not in Zip...
Indochine Zenith