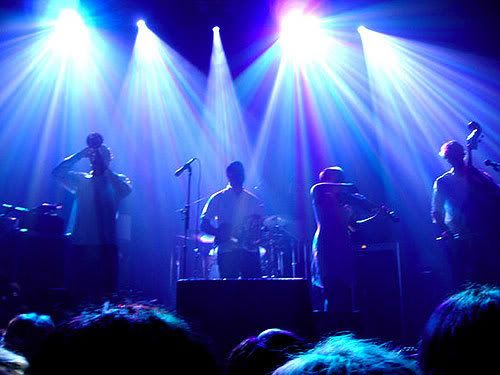 Belle Orchestra, Museum of Fine Arts, 4th November 2005.
Led by the Arcade Fires multi-instrumentalist Richard Reed-Parry, this disperate band of various members of other bands frequenting the Montreal scene, have found some success in playing their contemporary brand of orchestral/chamber/folk music, mostly from the championing by, and support slots with, aforementioned Montreal scene leaders, but certainly not without having a certain merit of their own.
You might be lead to think that from the genres they cover in their music that maybe the music is a bit on the dour side, but this is far from the fact. Tunes like Quintet have violin refrains which echo the most jiving Irish jig, and are driven at times by beats reminiscent of the kind of north African music championed by the likes of Plant and Albarn. Piazolla has the kind of jazzy upright basslines that may be found on the finest of Bristols Trip-Hop classics. All-in-all, a cracking little show this.
The Upwards March
Quintet
Piazolla
Recording A Tape...Typewriter Duet
As Seen Through Windows
Music Box Intro
7 Song
Noviembre
Organ Song
Raj