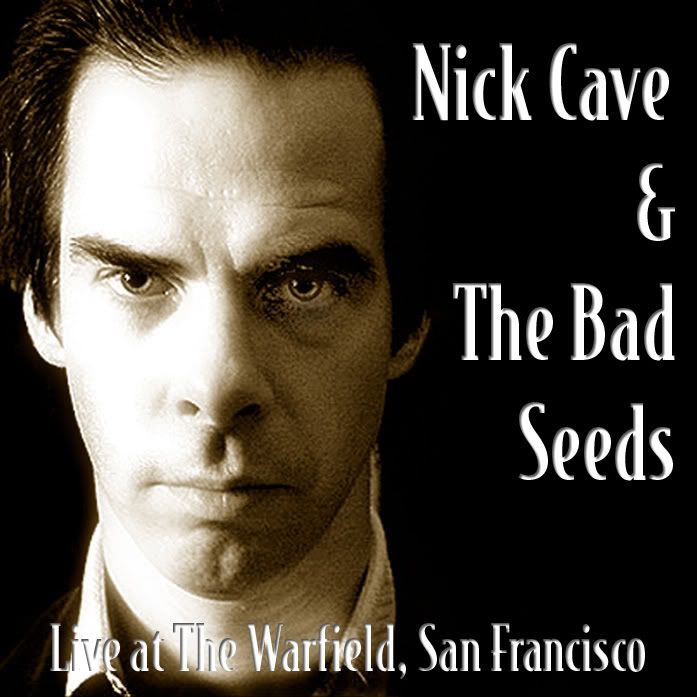 Nick Cave and the Bad Seeds, Warfield Theatre SA, 17th December 1998
This is a rather lovely bootleg from Nick and the band, with a good mix of songs from over their term as the Bad Seeds, many classics such as Stagger Lee, Mercy Seat, From Her To Eternity etc. etc. When playing the harder edged songs, such as the above mentioned Mercy Seat, the band and Nick himself deliver them with a passion belying a group of their age, it's good to hear a band who still love performing old songs they've played thousands of times before, and do so with such fire in their bellies.
Rear cover
01. Far From Me
02.
Do You Love Me
03. Lime Tree Arbour
04. Red Right Hand
05. Tupelo
06. Brompton Oratory
07. I Let Love In
08. From Her To Eternity
09. West Country Girl
10.
Mercy Seat
11. Weeping Song
12. Nobodys Baby Now
13. Into My Arms
14. Henry Lee
15. Where The Wild Roses Grow
16. Deanna
17. Plain Gold Ring
18. Stagger Lee
19. The Ship Song
20. Your Funeral...My Trial
Download samples, not included in Rar files
Part 1
Part 2
Part 3