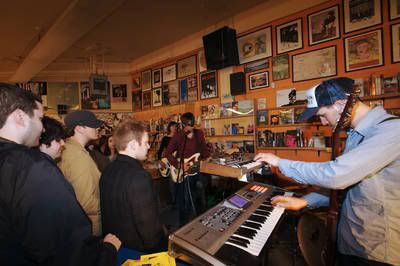 Steve Malkmus and the Jicks, live at Sonic Boom Records Seattle, in-store free show, 24th May 2005
The image is actually from 2nd March, but the show's certainly from 24th May as it was direct from the taper alienbobz.
Stephen gained rightful acclaim fronting Pavement in the throughout the '90's, after which he started 'the Jicks', initially wanting to be called simply that, except his label had other thoughts on the matter, as they tend to do in such cases. So, Steve Malkmus released a Jicks album under his own name before officially using the moniker when he released (or should I say they?) Pig Lib in 2003.
The track Grace, I had some shit trying to find some info on it, but I now know it's unreleased, so have some of that mother lumpers! Enjoy ;-)
01. Intro
02. Freeze The Saints
03. No More Shoes
04. Malediction
05. Mama
06. It Kills
07.
Grace
(unreleased)
RAR
*updated links*