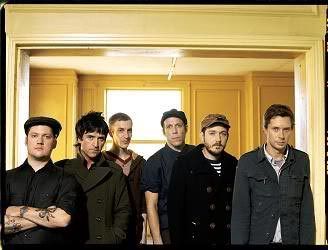 Modest Mouse, Molson Amphitheatre Toronto, June 8th 2008
Here's the support set from the R.E.M gig (coming later) from the Issaquah WA band. I quite enjoyed their second album when I heard it, but in hindsight never really gave it enough of a whirl, not as much as it merits anyway. When I heard ex The Smiths guitarist, and one of my alltime guitar idols, Johnny Marr was playing with them a few years back my ears pricked up.
The story goes that Johnny was at a barbeque with a member of the band, they got chating and said they should work together sometime. A while later he gets the call, asking if he'd like to play a few shows with them. He run the idea past his son, a big Modest Mouse fan, who told him to do it, then promptly started to teach his dad the songs on guitar. I'm sure he plays them better than the little man now, but it must've been ace for him to be teaching Johnny how to play some stuff, and even better to see Modest Mouse from the side of the stage while his dad played.
01.
Satin Coffin
02.
Invisible
03.
Dashboard
04.
Here It Comes
05.
Education
06.
Truckers Atlas
07.
Wlid Pack Of Family Dogs
08.
Paper Thin Walls
09.
King Rat
10.
We've Got Everything Now
11.
The Good Times Are Killing Me
12.
Float On
I just noticed I mistyped on track 8. If you have a tagger prog you can fix it, if not....tough.