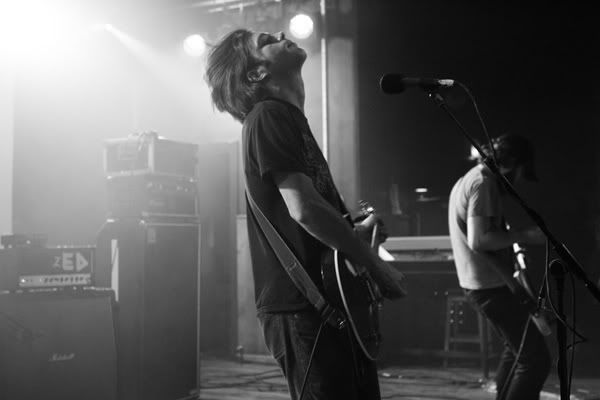 Nine Black Alps live in the City, Manchester Academy, October 3rd 2005.
Headliners of this concert above the Arctic Monkeys, Nine Black Alps (the name taken from a poem by notorious optimist Sylvia Plath) were the only of the bands broadcast on BBC radio 1 that actually had an album released at the time of the concert, as they released debut Everything Is in the previous June.
My personal favourite of the three bands who performed at the show, they've since released second LP Love/Hate, and subsequently been dropped by their label Island Records. I'll have to quote myself from one of the earlier posts now I'm afraid "Life eh?"
01. Intro
02. Over The Ocean
03. Just Friends
04. Cosmopolitan
05.
Not Everyone
06. Get Your Guns
07. break
08.
Unsatisfied
09. Llana Song
10. Southern Songs
11. Ironside
12. Shot Down
Download samples, they're not in Rar.
Alps Rar