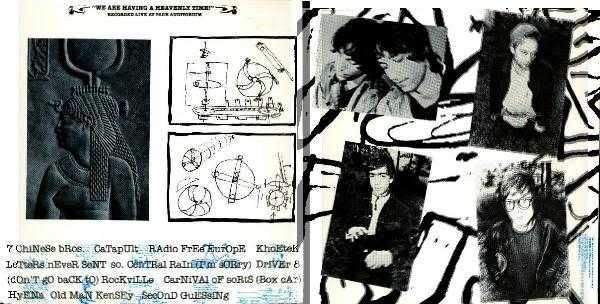 R.E.M. - We Are Having A Heavenly Time bootleg, Live at the Page Auditorium, September 26 1984
An excellent early set from the Athens band, but though this concert is soundboard sourced, it is sadly a tad out on the timing front, very noticably so at one point. Other than that this is a fine bootleg. As with the early albums Stipe's a little low in the mix on some tracks, but as it's the same on the releases it's no biggie. Including such classics as Rockville, So. Central Rain, Radio Free Europe and Driver 8 this is a must have for fans.
01.
Seven Chinese Brothers
02.
Catapault
03.
Radio Free Europe
04.
Khoetek
05.
Letters Never Sent
06.
So. Central Rain (I'm Sorry)
07.
Driver 8
08.
(Don't Go Back To) Rockville
09.
1,000,000
10.
Hyena
11.
Old Man Kensey
12.
Second Guessing