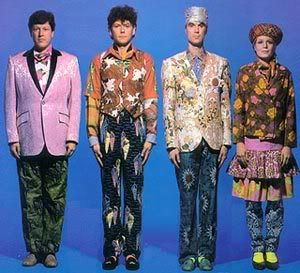 Talking Heads, live at the Jabberwocky Syracuse NY, 26th January 1977
One of the several highly Iconic bands from the mid-late '70's New York underground scene, Talking Heads are probably the most influential of the lot, and that's a big deal when you consider The Ramones, Patti Smith, Blondie and Television. Sure Blondie were probably the biggest with the girls, The Ramones with the alt crowd, but for allover appeal no-one beats Bryne, Frantz, Weymouth and Harrison.
Performed as a late show on the 26th of January, this bootleg was broadcast on FM radio, and going by the opening intro track this is taken from the pre-broadcast tapes. Anyway, it's a great set from such a rich period in their history, enjoy!...and yes, that is the Troggs track to close the set!
01.
Radio Intro
02.
Love > Building On Fire
03.
Uh Oh, Love Comes To Town
04.
Don't Worry About The Government
05.
Take Me To The River
06.
The Book I Read
07.
New Feeling
08.
A Clean Break
09.
Stay Hungry
10.
Thank You For Sending Me An Angel
11.
Pulled Up
12.
No Cmopassion
13.
Psycho Killer
14.
I'm Not In Love
15.
Love Is All Around
Also, visit http://journal.davidbryne.com/ for a very interesting look at what goes on in the world, and head, of Mr Byrne himself.