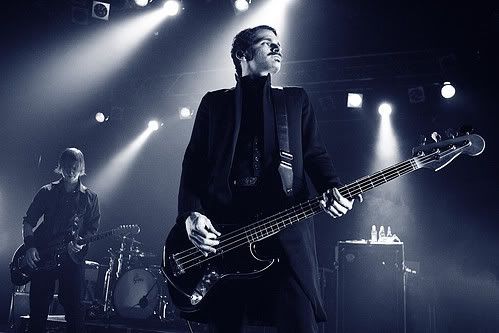 Interpol
Copenhagen Store Vega, Denmark
26. November 2004
Interpol are obviously a rather fine band, and although they're naturally compared to Joy Division, Paul Banks vocals are heavily reminiscent, and due to their dark imagery and rather bare instrumentalism, I do feel there's happy music just trying to step out of the gloom.
Say Hello To The Angels for starters, this tune has elements of traditional punk in it's simple driving rythmn, and of course echoes of The Clash. NARC and Obstacle 1, in fact many songs, have driving dance beats ala the Stone Roses and their peers, the later again has the offbeat rythmn guitar stabs of Reggae courtesy of The Clash, also echoed in the closed hi-hat hits on Length Of Love.
Essentially what I'm saying is this, despite the obvious love for the British music of the '70s and '80s, Interpol are really an upbeat '60s Garage band a couple of places removed. Just listen to those rythmns and try not to think of The Sonics, the Amboy Dukes, Bunker Hill, Count Five and a myriad of other primarily Chicago based bands you've probably never heard of, and tell me there's no root there. Of course we could take it further back, but why be quite so pedantic? I'm full of shit you say? Shut up and enjoy the gig fucko! ;-)
Next Exit
Say Hello To The Angels
NARC
Pervert
Obstacle 1
Not Even Jail
Hands Away
NYC
Lenght Of Love
Slow Hands
Evil
P.D.A.
Roland
Stella Was A Diver
Rar 1
Rar 2
*updated links*
Edit:
Fileden deleted Rar files instead of the sample MP3s I uploaded. I'll replace part 1 ASAP.