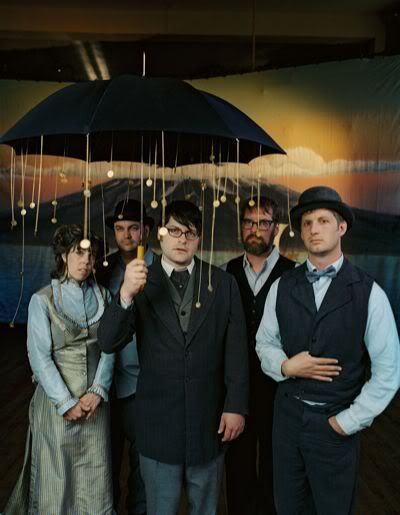 The Decemberists, live at the Fox Theatre, Oakland, 20th May 2009
The Decemberists recently released their 5th studio album, the rock opera that is The Hazards of Love, they're highest charting album to date. Touring this album has been a bit different for the band, as they've been playing it complete, from start to finish, and this is just one of those shows, played in two sets, the second being a more 'best of' affair. I'm sure you'll enjoy!
01: Intro
02: Prelude
03: The Hazards Of Love 1 (The Prettiest Whistles Won't Wrestle The Thistles Undone)
04: A Bower Scene
05: Won't Want For Love (Margaret in the Taiga)
06: The Hazards Of Love 2 (Wager All)
07: The Queen's Approach
08: Isn't It A Lovely Night?
09:
The Wanting Comes In Waves / Repaid
10: An Interlude
11: The Rake's Song
12: The Abduction Of Margaret
13: The Queen's Rebuke / The Crossing
14: Annan Water
15: Margaret In Captivity
16: The Hazards Of Love 3 (Revenge!)
17: The Wanting Comes In Waves (reprise)
18:
The Hazards Of Love 4
(The Drowned)
01: Intro
02:
Grace Cathedral Hill
03: We Both Go Down Together
04: Sleepless
05: If I Could Only Win Your Love
06: Yankee Bayonet (I Will Be Home Then)
07: Dracula's Daughter
08: O Valencia
09: The Crane Wife 3
10:
Sons And Daughters
11: Raincoat Song
12: A Cautionary Song
Download samples, they're not included in Zips...
Decemberists Fox Set 1
Decemberists Fox Set 2