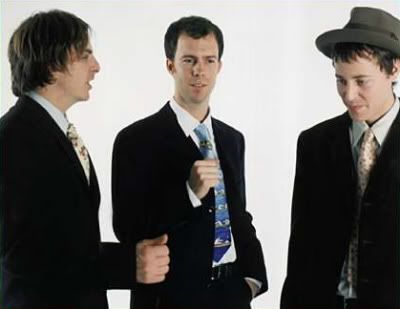 Ben Folds Five, live at Cat's Cradle, Carrboro N.C., 11th November 1997
Recorded in their home state, I'd imagine at the end of '97's tour supporting the release of Whatever and Ever Amen, this is a quality little BFF bootleg. For me personally, there's hardly a spare track in this show, but then my favourite Five albums were the first two, and you have the bonus of the encore cover version. Please do enjoy!
01. Theme from Dr. Pyser
02. Battle of Who Could Care Less
03.
Philosophy
04. Missing the War
05. Selfless, Cold & Composed
06. The Last Polka
07. Steven's Last Night in Town
08. Fair
09. Brick
10. Kate
11. Jackson Cannery
12. One Angry Dwarf & 200 Solemn Faces
13. Uncle Walter
14. Smoke
15. Julianne
16. (segue)
17. Underground
18. She Don't Use Jelly
19.
Song for the Dumped
Download samples, they're not included in Zips...
BFF Cradle 1
BFF Cradle 2