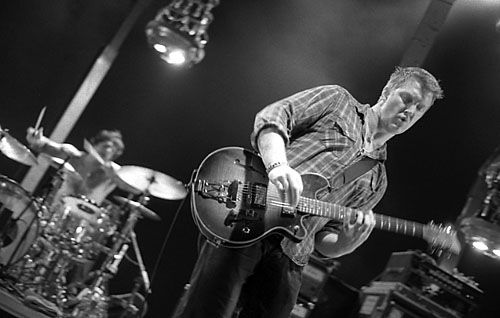 Queens of the Stone Age and Friends, live at the Henry Fonda Theater, the Natasha Schneider Benefit, 16th august 2008
Sometime Queens collaborator Alain Johannes partner (in life and music) Natasha Schneider fell ill with cancer, and the bills became too much for them to deal with, so Josh et al decided to throw a benefit concert to help their friends in their time of need. Bringing together more of their compadres they performed a nice set, with or without the other guests. I'm sure you'll enjoy!
01. Kielbasa (Tenacious D)
02. The History of Tenacious D (Tenacious D)
03. Wonderboy (Tenacious D)
04. Fuck Her Gently (Tenacious D)
05. Tribute (Tenacious D)
06. Go With The Flow
07. Turnin' On The Screw
08. Misfit Love
09.
The Blood Is Love
10. 3's and 7's
11. The Desperate Kingdom of Love (PJ Harvey)
12. There Will Never Be Another Time (w/PJ Harvey)
13. Powdered Wig Machine (w/PJ Harvey)
14. Crawl Home (w/PJ Harvey)
15. I'm Designer
16. Not To Touch the Earth
17. Little Sister
18. Hanging Tree
19. Making a Cross
20. I Feel Free (w/Tenacious D)
21. Rickshaw
22. Don't Drink Poison (w/Brody Dalle)
23.
Driving Song
(w/Brody Dalle)
24. Run Pig Run
25. I Wanna Make It Wit Chu (w/PJ Harvey)
26. Burn the Witch (w/Tenacious D)
27. Sick Sick Sick
28. Unknown Alain Song
29.
The Fun Machine Took a Shit and Died
30. Speaking in Tongues (w/Jesse Hughes)
31. Long Slow Goodbye
Download samples, they're not included in Zips...
QOTSA Fonda 1
QOTSA Fonda 2
QOTSA Fonda 3