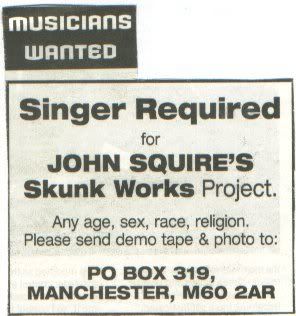 The Seahorses, live at Dublin Castle, 3rd May 1997
John Squire is probably the last of the guitar heros to emerge, Jonny Greenwood aside, from this little island, and one of the guys who's riffs I emulated when learning to play. He was the first of the Stone Roses to get back out into the music scene when he placed the above advert in a Manchester paper, hiring busker Chris Helme for the role after a friend saw him busking outside a branch of the now defunct Woolworths store. They only released one album, citing the usual 'musical differences' before splitting, though the sessions for the second are out there (I think I may have an MP3 copy somewhere). Anyway, enjoy!
01
I Want You to Know
02 The Boy in the Picture
03 Kill Pussycat Kill
04 Love Me and Leave Me
05 1999
06 Hello
07
Standing on Your Head
08 Love is the Law
09 Round the Universe
10 Suicide Drive
11 Blinded By the Sun
12 Happiness is Eggshaped
Download samples, they're not in Zip...
Seahorses Castle