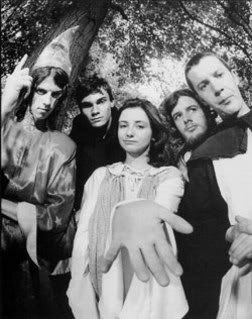 Gorky's Zygotic Mynki, live at Mercury Lounge, New York, 28th March 2000
Gorky's were a little indie band from Wales who released nine albums over an eleven year period. Much like their contemporaries SFA, they sang songs in both the English and Welsh languages, but were more influenced by psychdelia than the rave-tinged Furries, as can be garnered from the above photograph. This show is taken from what was probably their first U.S. tour, as they had just previously released a compilation of their earlier independant labeled (Ankst) albums. Since their split a few years back now frontman Euros Childs and guitarist Richard James are still doing their thing, both relesing very good solo work at present. A really great setlist from them it is too, and as such I'm sure you'll enjoy!
01 Poodle Rockin'
02 Spanish Dance Troupe
03 Y Ffordd Oren
04
Let's Get Together
05 Out On The Side
06 Freckles
07 Faraway Eyes
08 Hallway
09 Fresher Than The Sweetness In Water
10 Honeymoon With You
11 Meirion Wyllt
12 Desolation Blues
13
Sweet Johnny
(part 1)
14 Sweet Johnny (part 2)
15 Patio Song
16 The Humming Song
Download samples, they're not included in the Zip...
Mynci Lounge