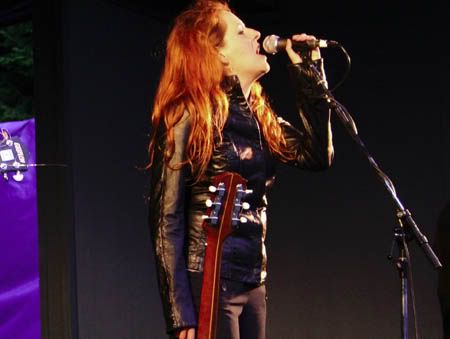 Neko Case, live at Spaceland, Los Angeles, 10th March 2000
Neko made her name when she sang several songs on the New Pornographers album Mass Romantic before going solo, firstly with her band Her Boyfriends, before perhaps gaining a little more confidence and continuing comeletely under her own name. Though the Pornographers were an indie-pop style group, formed more to allow each member to gain a little from playing with each other more than anything, her own music is much more country than anything else. 2006 brought us her album Fox Confessor Brings The Flood, and with it many, many plaudits for her songwriting style. Anyway...this is rather younger than that as you've noticed, though I'm sure you'll enjoy it anyway.
01 tuning & banter
02 Set Out Running
03
Guided By Wire
04 Bowling Green
05 Stinging Velvet
06 Favorite
07 Whip The Blankets
08
South Tacoma Way
09 Rated X
10 Twist The Knife
11 Make Your Bed
12 Mood To Burn Bridges
13
Porchlight
14 Furnace Room Lullaby
15 Thrice All American
16 Bought And Sold
17 Fist City
18 No Need To Cry
Download samples, they're not in Zip...
Case Spaceland