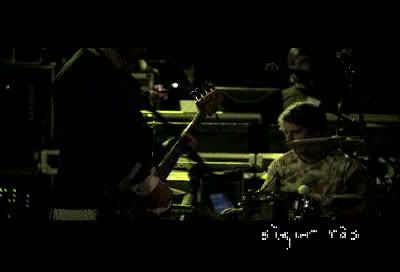 Sigur Rós, live at MoMa, New York, 7th July 2008
MoMa is the Museum of Modern Arts, not in anyway a music venue, yet the sound of this show is fantastic. It's taken from a webrip of a video (from current.tv), WAV extracted, then converted to MP3, so maybe something of a transcode but fuck it.
The band played on Icelands Idependence Day, hence the national anthem, apart from that...it's a really great set, mixing classic Ros with some great tracks from the new album. On a site I took a look at in readying these files it said that Ný batterí is in the setlist (between Sé Lest and Við Spilum Endalaust). I didn't take the time to listen to every second of the show, so can't say that it definitely isn't, but I never heard any exerpts during my encoding process. Anyway...enjoy!
01. Interview - Playing in NYC
02. Glósoli
03.
Sé Lest
04. Interview - Playing MoMa
05. Við Spilum Endalaust
06. Sæglópur
07. Icelandic National Anthem
08.
Inní Mér Syngur Vitleysingur
09. Hoppipolla - Með Blóðnasir - Gobbledigook
Download samples, they're not included in Zip...
Ros MoMa