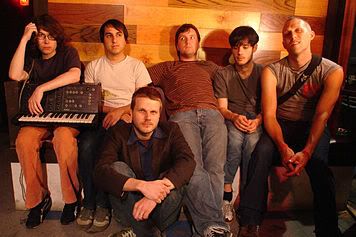 Ugly Casanova, live at the Blackbird Theater, Portland Oregon, 19th November 2001
Ugly Casanova are little known, though I'm sure many of you will know of their singer Isaac Brock's day job, the frontman for Modest Mouse. They released just one album on Sub Pop records, and though they have toured quite a bit (at the time of release and a few years later) there seems to be few bootlegs kicking about. Thankfully there are one or two, and this one is even a soundboard recording. Please do enjoy!
01 Barnacles
02 Cat Faces
03
Things I Don't Remember
04 Hotcha Girls
05 Pacifico (Sharpen Your Teeth)
06
Smoke Like Ribbons
07 Bee Sting
08 Parasites
09 Ice On The Sheets
10 Diggin' Snow
As ever, download samples, they're not in the Zip!
Casanova Blackbird