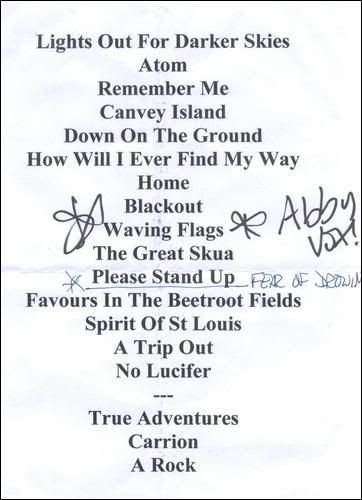 British Sea Power, Whelans, Dublin, Jan 18th 2008
British Sea Power made their name in an odd manner for a UK band really, as it's not very often we get groups doing the whole residency thing...having a weekly slot at a venue, yet this is what they did. Brighton was the town of choice, being the entertainment (and gay, though I'm sure this had no bearing) capitol of southern England. Well, outside of London anyway.
It payed off, and with each release their popularity has grown. Not suprisingly really, as they're one of the most accomplished bands about in the UK today, and aren't in the bracket of those who got signed post-Doherty. A phenomenon I hate as a music fan...a band's good and sells records, anything vaguely simliar gets signed to try and cash in on a trend. BSPs music thankfully did its own talking, nothing to do with style in anyway, the way all music should be.
01 Intro
02 Lights Out For Darkness
03 Atom
04 Remember Me
05
Canvey Island
06 Down On The Ground
07 How Will I Ever Find My Way
08 Blackout
09
Waving Flags
10 The Great Skua
11 Fear Of Drowning
12 Please Stand Up
13
Favours In The Beetroot Fields
14 Spirit Of St. Louis
15 A Trip Out
16 No Lucifer
17 True Adventures
18 Carrion
19 A Rock
Rar 1
Rar 2
Rar 3