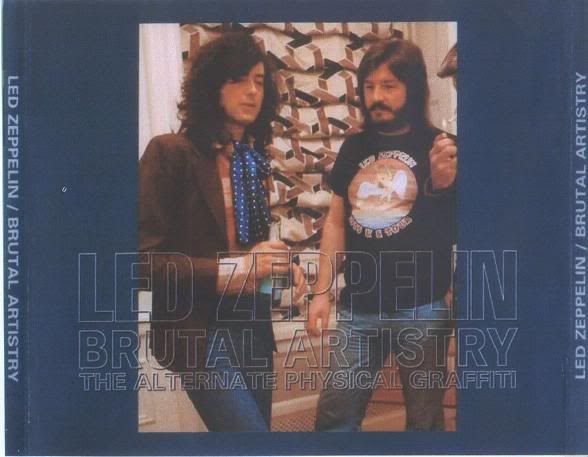 Led Zeppelin, Brutal Artistry, Physical Graffiti outtakes 1974
Along with Sabbath and AC/DC, Zep are the very, very best of classic rock bands (Stones and Beatles are exempt from that 'genre' surely?), and as such, pretty obviously, are amongst my alltime favourite bands. The double album Physical Graffiti, the album that gave Puffy his Come With Me single from the Godzilla soundtrack, is amongst the very best of Led Zeppelins output in my opinion, only the criminally underrated III competes with it for top spot on a regular basis.
These Headley Grange recordings are rather bloody good, although missing a Night Flight and/or Bron-Y-Aur alt/demo/instrumental sadly, and go to show how much work the guys put into their releases. Most notably on the second disc, where Jimmy Pages instrumental demo of Swan Song is so long due to his experimentation, that it's the only track on the disc! In The Light makes a couple of different appearances too, as both In The Morning and Take Me Home.
Disc 1
1. The Wanton Song
2. The Wanton Song
3. Take Me Home
4. In The Morning
5. Trampled Underfoot
6. In the Morning
7. Sick Again
8. The Rover
9.
Untitled Instrumental
10. In My Time Of Dying
Disc 2
1. Swan Song
Disc 3
1. Ten Years Gone
2.
The Wanton Song
3. Trampled Underfoot
4. Kashmir
5. Custard Pie
6. In The Light
7. Swan Song
8. Swan Song
Disc 1
Disc 2
Disc 3