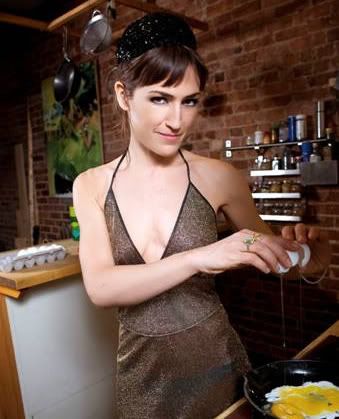 Joan As Police Woman, live session for BBC Radio 6, 2006
Another rather kookie lady today, and a rather fine one at that. Joan has been in and around the NY scene for many years now, and aswell as the session work for the likes of Rufus Wainwright, Elton John, and Anthony (& the Johnsons) Heggarty (I'm pretty sure she's not a faghag), she's been in a few less than successful bands, Black Beetle (with former Jeff Buckley band members) and The Dambuilders.
I once saw her perform with, and as support for, Rufus Wainwright, and althought there were alot of songs about dead rockers she was very impressive. As it was a Friday 13th, she said that she'd been thinking of ways to freak people out during the show and uttered "We're all going to die alone", at which point I threw my arms into the air and proclaimed "Woo!". Although she never saw me she did exactly the same and laughed. It gave me a warm feeling in my belly, not the same place I usually get a warm feeling when thinking of Joan mind.
01.Interview
02.
Eternal Flame
03.Interview
04.Christobel
05.Interview
06.We Don't Own It
07.Interview
Rar file