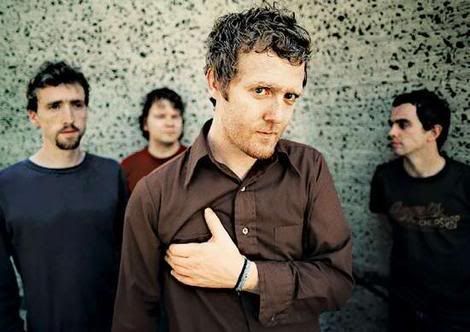 The Frames, Park West, Chicago, 22nd October 2005
Another Buckley connection for you (Joan in the previous post was his ex), for both the snippet late on in the set, and the fact that Glen was a friend of Jeffs.
The Frames have been around since 1990, yet they didn't get very much love outside Ireland until singer Glen Hassard played the guitarist Outspan "Fender Bender" Foster in the movie The Commitments in 2003. In 2007 he got back into movies, starring in ex-bass player John Carneys Once, playing a role he did at 13 in Dublin (in real life) as a busker, and consequently won an award (Oscar?) for original song as he wrote the soundtrack, which he performed with his co-star, some woman with an eastern European name I don't recall.
Anyway, great band, great show. Enjoy!
01: Intro
02: Keepsake
03: Dream Awake
04: Finally
05: Lay Me Down
06:
What Happens When the Heart Just Stops
07: God Bless Mom
08: People All Get Ready
09: Seven Day Mile
10: Happy (Sam Kassirer on piano)
11: Too Many Sad Words Make A Sad Sad Song
12: Pavement Tune
13: Fake
01:
Your Face / Shine On You Crazy Diamond
(Pink Floyd cover)
02: Revelate
03: Underglass
04: Friends and Foe
05: Leave (Glen solo)
06: Come and Find Me (with Josh Ritter)
07:
Star Star
(Medley Pure Imagination from Willy Wonka, Run by Snow Patrol, and Most Beautiful Widow In Town by Sparklehorse)
08: Fitzcarraldo
09: The Man in Me (Dylan Cover with Josh Ritter, Sam Kassirer and Zack Hickman)
10: Last Goodbye (Jeff Buckley tease)
11: Red Chord
Rar 1
Rar 2
Rar 3