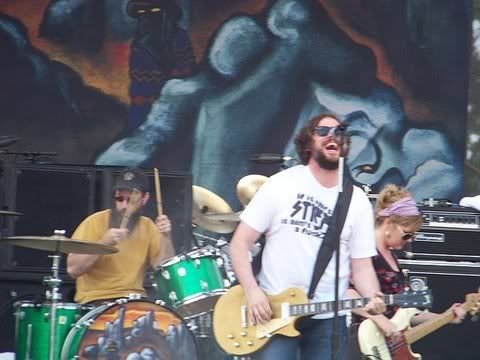 Drive-By Truckers, live at The Belly Up Tavern, Solana Beach CA, 20th June 2008
DBT follow the southern rock tradition made famous by likes of The Eagles, Moby Grape, Lynyrd Skynyrd by having a three guitar line-up, not 100% LS had 3 actually but they have 'the' sound, thankfully they're a bit more alt/rock/country than MOR as The Eagles are seen by many.
Hailing from Alabama/Georgia, they write alot about coming from small town southern U.S.A. with a great knack for story telling, as amply demonstrated in the sample song 18 Wheels Of Love. Enjoy the show!
Oh yes, as an aside, I have a stiff 12"! That's Lena Lovetichs Lucky Number Nine from the '80's indie label Stiff Records (as on the t-shirt above) of course :)
01. That Man I Shot
02. Self Destructive Zones
03. The Company I Keep
04. The Tough Sell
05. Where the Devil Don't Stay
06.
Dead Drunk and Naked
07. Guitar Man Upstairs
08. Life in the Factory
09. Three Dimes Down
10. I'm Eighteen
11. I'm Sorry Houston
12. Righteous Path
13. Checkout Time in Vegas
14. You and Your Crystal Meth
15.
Putting People on the Moon
16. Marry Me
17. Let There Be Rock
18. Ghost to Most
19.
18 Wheels of Love
20. Lookout Mountain
21. Steve McQueen
Download samples, they're not in Zips.
Truckers Belly 1
Truckers Belly 2