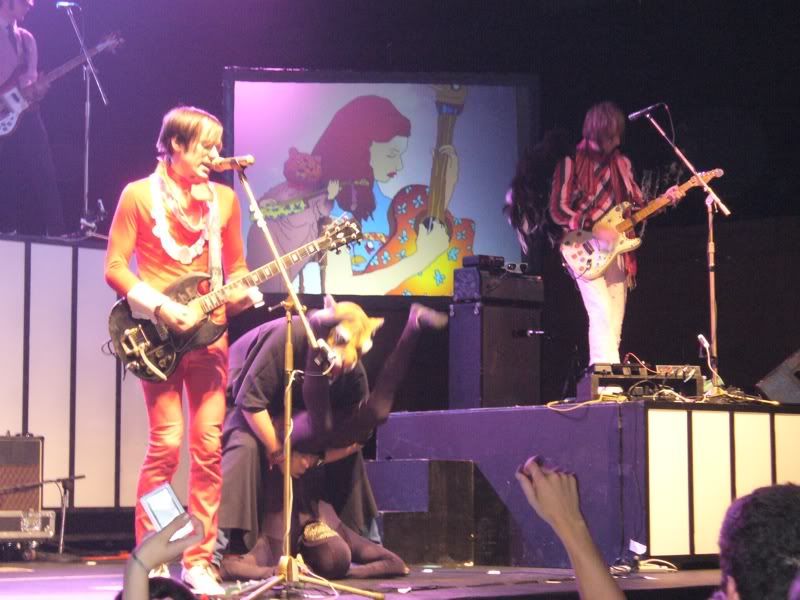 Of Montreal, live at the Roseland Ballroom New York, 10th October 2008
Touring to promote the forthcoming album Skeletal Lamping, from which most of the set comes, of Montreal have had a previous eight albums in total. I came to them quite late, after having heard this really fat bassline a couple of years ago and lyrics I took to be "let's pretend we're in an autocar", it was actually Antarctica, but hey, we all mis-hear things from time to time. A great setlist from the Athens Georgia group, so do enjoy!
01. intro
02.
Id Engager
03. So Begins Our Alabee
04. Triphallus, to Punctuate!
05. She's A Rejecter
06. For Our Elegant Caste
07. Touched Something's Hollow
08. An Eluardian Instance
09. Heimdalsgate Like a Promethean Curse
10. Gallery Piece
11. Wraith Pinned To The Mist (And Other Games)
12. Women's Studies Victims
13.
St. Exquisite's Confessions
14. Eros' Entropic Tundra
Disc 2
01. Nonpareil Of Favor
02. Instrumental
03. Wicked Wisdom
04.
Disconnect The Dots
05. Instrumental
06. And I've Seen A Bloody Shadow
07. Plastis Wafers
08. Beware Our Nubile Miscreants
09. Mingusings
10. A Sentence Of Sorts In Kongsvinger
11. encore break
12. banter/pizza chant
13.
Smells Like Teen Spirit
(with Andrew Vanwyngarden of MGMT)
14. Gronlandic Edit
Download samples, they're not in Zips.
Montreal Roseland 1
Montreal Roseland 2