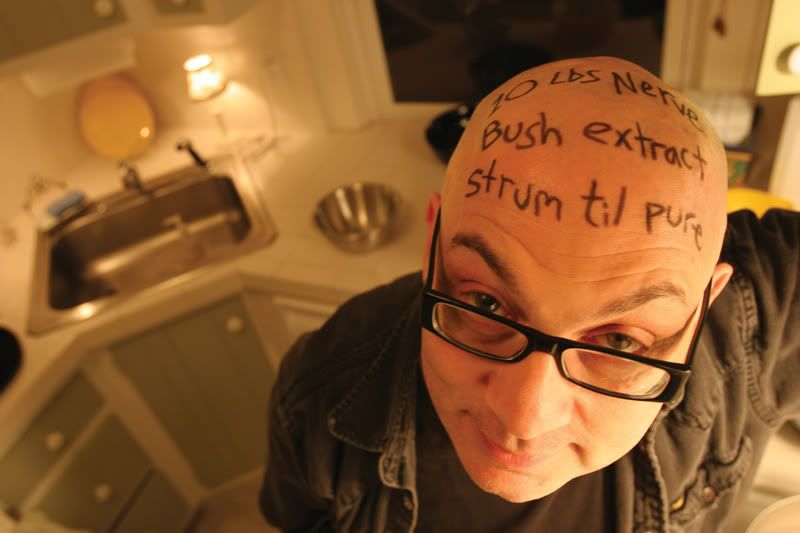 Hamell On Trial, live at the Sarah Street Grill, 22nd December 2005
Ed Hamell's a whirling dervish touting a battered and ancient acoustic, he is both deadly serious, and not serious at all. For instance, he writes songs about his distaste for the way politicians constantly bullshit, but then totally makes you laugh by calling them things like Coulters Snatch and saying how funny it would be to say that Ann Coulter has a smelly pussy, citing the "throw enough mud" argument. Not so funny when I write about it, but the track is immense!
He's currently signed to Righteous Babe, owned by Ani Defranco, who also plays and sings a little on his albums, and most of his income comes from a gruelling tour schedule across the States, though he has had slots in such places as the world famous Edinburgh Festival, primarily for comedians, yet his show won many an accolade. His recorded shows are made freely available for the world too, you can find them at the fabulous
Internet Archive
, where most are available in any format you could need, except this one, hence I'm posting it! It is a great show nonetheless. Enjoy!
I would write out the tracklist as per usual, but there's loads of them (29!) and I'm bored of being on the computer as it took til the third attempt to upload part 2!
Chris And The Angels
Folsom Prison Blues
(Johnny Cash)
Why Go Halfway
Download samples, they're not in the Zips
Hamell Sarah Street 1
Hamell Sarah Street 2