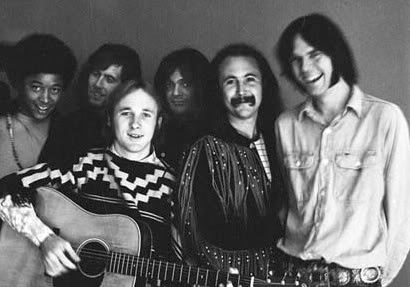 Crosby, Stills, Nash & Young, live at Fillmore East, New York, 6th June 1970
CSNY played several dates at the Fillmore East in June '70, I think it may have been a run of 5 consecutive shows (2nd-7th). So, here's one of those shows for you, suondboard sourced, though sadly in mono only, I would've thought stereo would've been the way to go in 1970, but who am I to moan? Enjoy!
Disc 1:
1. Suite: Judy Blue Eyes
2. Blackbird
3. On The Way Home
4. Teach Your Children
5. Tell Me Why
6. Triad
7. Guinnevere
8. Simple Man
9. King Midas In Reverse
10. The Loner / Cinnamon Girl / Down By The River
11. Black Queen
12. 4+20
Disc two:
1.
49 Bye-Byes
2. Love The One You're With
3. Pre-Road Dawns
4. Long Time Gone
5. Helplessly Hoping
6. Ohio
7. As I Come Of Age
8. Southern Man
9.
Carry On
10. Woodstock
11. Find The Cost Of Freedom
Download samples, they're not in Zips...
CSNY Fillmore 1
CSNY Fillmore 2