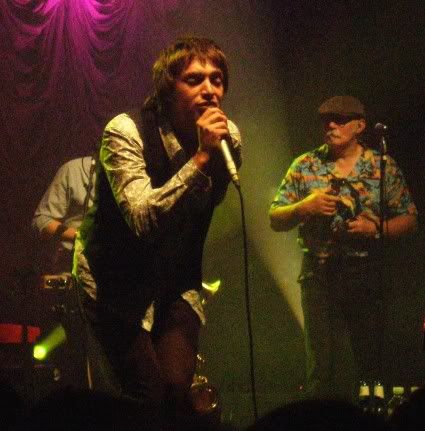 Paolo Nutini, llive at the Alhambra Theatre, Dunfermline, 18th May 2009
Paolo's a former roadie/t-shirts sales person, and with support slots with David Sneddon (he won an impromtu competition to play when Sneddon was late), Amy Winehouse and KT Tunstall, Mr. Nutini spread his name well. His first single release was a free download, perhaps a bit old hat now, after all this his second single got to the dizzy heights of No.5 in the U.K. charts. Not too bad at all for a boy from Paisley. This bootleg was recorded at a pre-release show for his second album Sunny Side Up. Enjoy!
01. Forget It
02. High Hopes
03. Alloway Grove
04. Loving You
05. Mellow Down Easy
06. Pencil Full of Lead
07.
Last Request
08. Simple Things
09. Growing Up Beside You
10. These Streets
11.
Candy
12. (Bare Necessities)
13. Coming Up Easy
14. Down in Mexico (Coasters cover)
15. Funky Cigarette
16. Sleepwalking
17.
No Other Way
18. New Shoes
19. Tricks of the Trade
20. Ritalin
21. 10/10
22. Jenny
Download samples, they're not included in Zips...
Nutini Alhambra 1
Nutini Alhambra 2