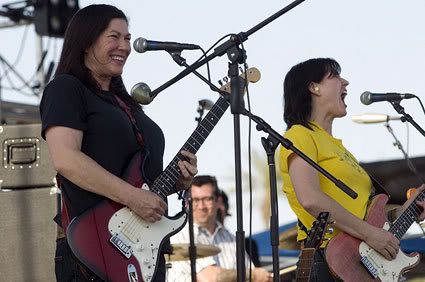 The Breeders, live at La Route Du Rock, St. Pere France, 14th August 2008
The Deal twins re-emerged this year also, to much less fanfare than The Pixies of course, yet they had a much bigger hit with Cannonball than anything Kims day job ever produced. Initialy The Breeders was concieved to be a band with Tanya Donelly, the lovely singer of 'grunge' acts Belly and Throwing Muses, sadly that never came to be and Kim Deal used the name anyway, she must have rather liked it. Shame about the Tanya thing though, but then she probably had better albums than Kims band ever did...anyway, this was an FM broadcast from September 2nd on FM France Inter. Enjoy!
01. Intro
02. Bang on
03. No aloha
04. Pacer
05. Walk it off
06. Cannonball
07.
Drivin' On 9
08. Here no more
09. Shocker in Gloomtown
10. Fortunately gone
11. Outro
Download sample, it's not in Rar.
St Pere Rar