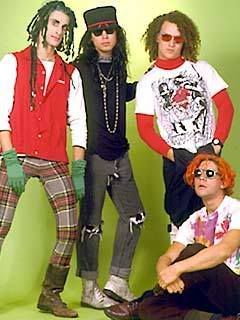 Jane's Addiction, live at the Theatre Of Living Arts, Philadelphia, 20th February 1989
A nice soundboard set from the ever-so-slightly mental (in a good way, naturally) Perry, Dave, Eric and Stephen. Apparantly, and Wikipedia says it so it
must
be true, their name came from a roomate of Perry Farrells, Jane Bainter, who was an addict. That's one way to show some love I s'pose... The bulk of the set comes from the bands studio debut Nothing Shocking, only tracks 2 and 3 are from their self-titled live debut album.
01. Up The Beach
02. Whores
03. 1%
04. Idiots Rule
05. Had A Dad
06.
Ted, Just Admit It
07. Standing In The Shower, Thinking
08. Thank You Boys
09.
Pigz in Zen
10. Summertime Rolls
11. Ocean Size
12. Mountain Song
13. Jane Says
Download samples as well as Rar, they're not included.
Living Arts Rar