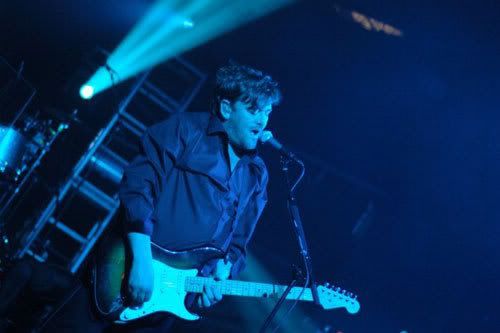 Elbow, Neues Schoff Stuttgart, REM support slot, 19th August 2008
Elbow are simply one of the best live bands I've seen, how so few guys get such a big sound is rather astonishing. Considering these guys are from Manchester, a city with a history of bands with a certain sound, or at least bands who don't stray too far from that sound, it's very refreshing that they exist at all, and goes to show that not all Mancs are stuck with major, minor and seventh chords only, they even know alternate tunings for fuck sake!
Oh yes, they're also up for this years Mercury Music Prize with The Seldom Seen Kid album, joint second favourites with Radiohead according to William Hill bookmakers (Burial with Untrue is 4/6 favourite at the time of posting), and rightly deserved a nomination it is too.
01. Station Approach
02. The Bones Of You
03. The Stops
04. Grounds For Divorce
05.
The Loneliness Of A Tower Crane Driver
06. Great Expectations
07. One Day Like This
Download sample as well as Rar, it's not included.
Rar file