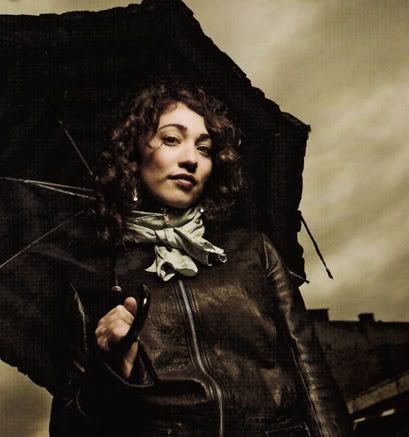 Regina Spektor, live at the Cabaret Voltaire Edinburgh, 1st February 2006
I've got a little bit of a fetish for the solo singer-songwriter, preferably a little fun and quirky, and Miss Spektor is just one of those, and she's pretty to boot. As many artists here seem to be, Regina hails from NYC...well, at least that's where her musical career has been based anyway, she actually has a Russian-Jewish background.
Her first self-released album was called 11:11, the same title as a song by fellow NYC-based pianist, and-just-about-everything-I-listed-Regina-as-being-except-a-man, Rufus Wainwright. Suprisingly though, Miss Spektor hasn't really recorded with the many well known artists of the New York scene, other than The Strokes (a couple of their B-sides), their guitarist Nick Valenci appearing on Better from her Shortlist Music Prize nominated Begin To Hope album of 2006.
01. Eight Miles High
02.
Ezra Pound
03. Talk
04. Carbon Monoxide
05. Baby Jesus
06. The Flowers
07. Small Town Ruin
08. Melody
09. Prisoners
10. Ode to Divorce
11. Aprés Moi Le Deluge
12. Bobbin' For Apples
13. That Time
14. Twenty Year's of Snow
15. Better
16. Us
17. Field Below
18. Poor Little Rich Girl
19. Talk
20.
Dance Anthem of the 80s
21. Samson
22. UGH...merica
Cabaret Voltaire part 1
Cabaret Voltaire part 2